Episode® 70V Mixer-Amplifier
Perfect for light commercial applications, these Episode® 70V Mixer-Amplifier include all the features needed for background music and paging. They feature eight inputs for microphone and stereo hookups, an integrated mixer that provides expert blending, XLR microphone inputs with independent priority modes that enable audio "ducking," and a powerful amplifier.
Important Note - With the 60W model, only one connection type may be used at a time.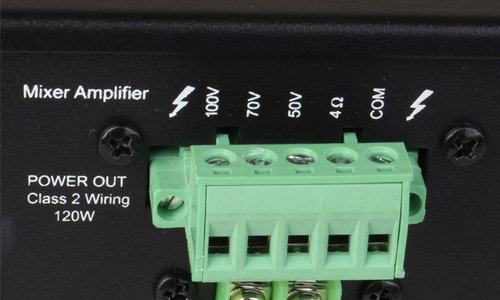 50V, 70V, 100V and 4-Ohm Capable
This versatile amplifier supports 50V, 70V and 100V, as well as low impedance 4-ohm systems. And with up to 240 Watts of power, it handles large rooms and multiple speakers with ease.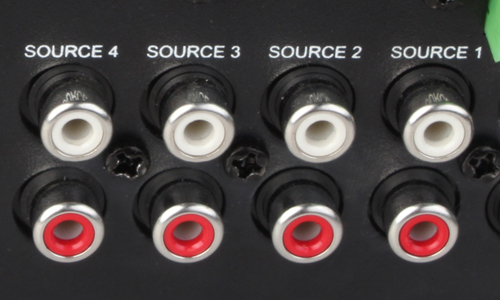 Multiple Inputs
With up to eight inputs, you can connect multiple microphones and analog sources for background music. An integrated mixer blends microphones with any one of the music audio sources.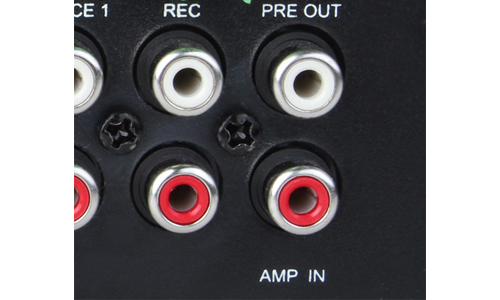 Flexible Output Options
System expansion is simple with this mixer/amplifier. Not only is there a balanced line output to daisy-chain a second amplifier, but there is also a fixed record output and preamp loop output / amp input should an external EQ or DSP be needed.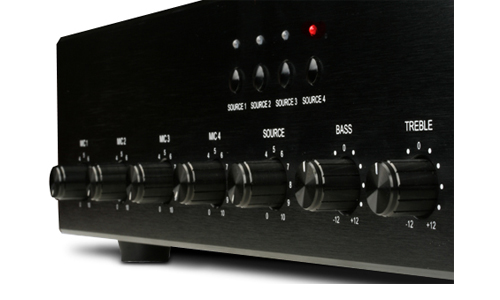 Front Panel Controls
Front controls provide the store owner or manager quick access to Volume, Bass, Treble, Source Input and individual Microphone level controls. To change sources, simply press one of the front panel selection buttons.
Priority Mic Inputs
Balanced XLR microphone inputs feature independent priority modes that enable audio "ducking," a feature that automatically attenuates the music when the priority microphone(s) are being used. This is a must-have feature in restaurants and bars. Using condenser microphones? No need for batteries – our phantom power switch has your active electronics covered.
LED Indicators
The front panel LED meter enables the user to prevent clipping, which could damage the speakers. Just like a stop light, green is good to go while red means you should stop, as clipping could occur. Protecting the system from dead shorts on the speaker outputs is easy too, thanks to an LED indicator that switches from blue to red if there's a short.
Side Vents
Perfect for when rack or shelf space is at a premium, this amplifier features vents on the sides and a fan in the back, enabling you to stack other equipment on top of it without risking overheating.
Installation Flexibility
A slim 2U chassis is 30% shallower to take up less space when stacked on a shelf or installed in a rack. Included removable rack ears and amplifier feet give you the flexibility to install it where you need.
| | | | |
| --- | --- | --- | --- |
| | ECA-70MIXAMP-1-240 | ECA-70MIXAMP-1-120 | ECA-70MIXAMP-1-60 |
| Channels | 1 | 1 | 1 |
| Power Output @ 4 ohm | 240W | 120W | 60W |
| Topology | Class AB | Class AB | Class AB |
| Total Harmonic Distortion (THD) | <0.1% | <0.1% | <0.5% |
| Frequency Response | 70 Hz to 16 kHz | 70 Hz to 16 kHz | 50 Hz to 16 kHz |
| Color | Black | Black | Black |
| Dimensions (W x H x D) | 16.9" x 3.75" x 15.2" | 16.9" x 3.75" x 15.2" | 16.9" x 3.75" x 12.9" |
| Power Consumption | 480W | 160W | 120W |
| Line Voltage | 120V AC | 120V AC | 120V AC |
| Weight | 36.4 lbs | 24 lbs | 15.7 lbs |
| Rack Spacing | 2U | 2U | 2U |
| Signal to Noise Ratio | 73 dB | 68 dB | 73 dB |