Episode® 70V IP-Enabled Amplifier
These 70-volt, 2-channel digital amplifiers are OvrC enabled for easy remote management, while popular control drivers, IR, IP, and RS-232 allow you to customize audio in commercial environments. It fits perfectly in restaurants, bars, or small conference rooms, and can maximize the sound of an outdoor speaker system. With four inputs and a loop out, it provides all the flexibility needed for a professional installation.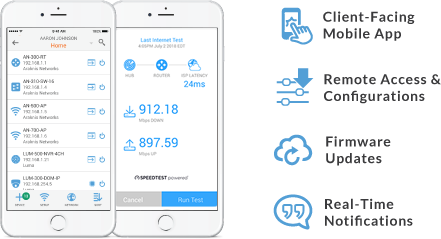 OvrC is your remote on-call technician, a free cloud-control app that makes installs a breeze and helps eliminate truck rolls. Plus, a convenient, end-user app allows your customers to fix small problems on their own, reducing calls and making your life easier.
Simplified Control System Integration
Along with control drivers, this Episode® 70V Digital Amplifier can also be controlled via IR, IP, and RS-232. With the control protocol we've provided under the Support tab, it functions easily with any IR or serial control system and provides access to volume control, source selection and summing.





Balanced & Unbalanced
Most amps from the other guys force you to cut up an RCA cord to connect a standard source. Retract the razor knife and use Episode instead. This amp offers standard RCA connections for unbalanced inputs, as well as screw terminals for balanced/unbalanced inputs. Plus, an intuitive UI allows you to route inputs and outputs. So no matter what type of connection you need, you're covered. Note: Inputs are independent by channel. If using a stereo source, you will need a Y-adapter to sum left and right RCAs into a single amp input.
Loop Outputs
When using a stack of amplifiers, the loop outputs are a convenient way to daisy-chain the signal to downstream components – perfect for a high power outdoor zone, for example. This eliminates the need for RCA splitters and gives a much cleaner (and faster) install.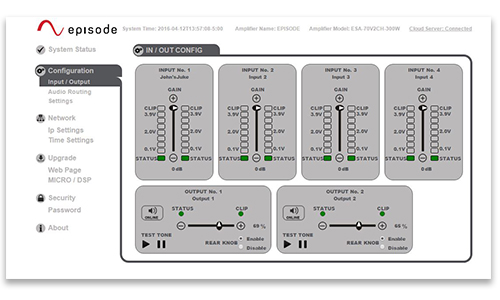 Gain & Volume Control
Thanks to convenient gain controls on the UI, you can easily match input levels and prevent clipping. Plus, output level knobs allow you to adjust the volume per channel right from the UI or the amplifier itself. These controls can even be changed or disabled on the UI to avoid any customer miscues.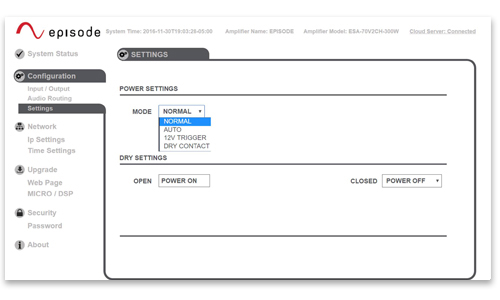 Audio Sensing
Three convenient turn-on modes make it easy to integrate with simple volume controls or sophisticated control systems right from the UI. Audio-sense is perfect for connecting to an audio source or mixer – when the source turns off, the amplifier will gracefully go into a power-saving standby mode. The 12V trigger inputs allows you to use a mixer or control system to turn the amp on or off, or have it "wake up" another device when the amp is activated.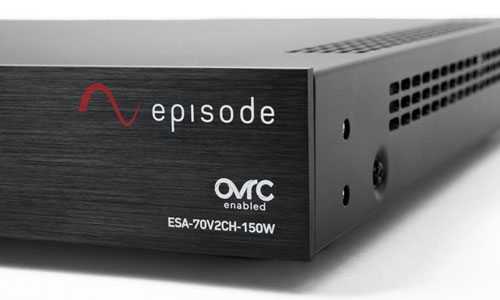 Part of the OvrC Ecosystem
Adjust audio routing, input gain and output levels, and a wide variety of amplifier network settings remotely, with the help of OvrC, our signature cloud control platform. OvrC provides remote access to the local UI, where you can update firmware, modulate the amplifier gain, select inputs, set clipping levels, power-cycle the unit, or check the status and temperature of your device.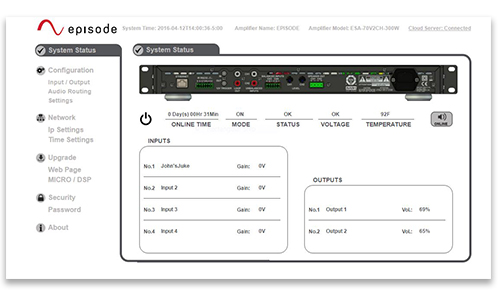 Remote Power Cycling & Firmware Updates
Need to reset an installed device, or upgrade to the latest firmware? Now you can do both of these things remotely in order to save valuable install time, and ensure your customer gets an efficient, fast solution for any network issues.
Installation Flexibility
A slim 1U (150 & 300) or 2U (500) chassis takes up less space when stacked on a shelf or installed in a rack. Included rack ears and amplifier feet give you the flexibility to install it where you need.
ESD & Surge Protection
We engineered this amp with high surge level protection components. During development, every connection was tested with both an ESD and lightning simulator – all speaker outputs, audio inputs, even the power input were ESD tested with up to 15,000V and surge tested at 2,400V.
Package Contents:
(1) Amplifier
(1) Detachable 6 ft. IEC Power Cable
(2) Mounting Ears for Amplifier
(1) Installation Manual
| | | | |
| --- | --- | --- | --- |
| | ESA-70V2CH-150W | ESA-70V2CH-300W | ESA-70V2CH-500W |
| Impedance Input | 10KΩ/ Unbalanced, 20KΩ/ Balanced | 10KΩ/ Unbalanced, 20KΩ/ Balanced | 10KΩ/ Unbalanced, 20KΩ/ Balanced |
| Power Output per Channel (Continuous) | 150W per channel @ 70V | 300W per channel @ 70V | 500W per channel @ 70V |
| Sensitivity Input | 775mV | 775mV | 775mV |
| Total Harmonic Distortion (THD) | 0.1% THD 20 Hz-20 KHz | 0.1% THD 20 Hz-20 KHz | 0.1% THD 20 Hz-20 KHz |
| Frequency Response | 50 Hz to 20 KHz | 50 Hz to 20 KHz | 50 Hz to 20 KHz |
| 12V Trigger | Input: 4.5 -12V DC; 10K Ω | Input: 4.5 -12V DC; 10K Ω | Input: 4.5 -12V DC; 10K Ω |
| | Output: 12V DC; 10mA | Output: 12V DC; 10mA | Output: 12V DC; 10mA |
| Certifications | Meets FCC Part 15, UL EN60065 | Meets FCC Part 15, UL EN60065 | Meets FCC Part 15, UL EN60065 |
| Dimensions (W x H x D) | 17" x 1.73" x 14" | 17" x 1.73" x 14" | 17" x 3.49" x 15" |
| Inputs | Per Channel: 1 balanced (set screw) and 1 unbalanced RCA | Per Channel: 1 balanced (set screw) and 1 unbalanced RCA | Per Channel: 1 balanced (set screw) and 1 unbalanced RCA |
| Power Consumption | 400W | 800W | 1200W |
| Line Voltage | 115V AC / 230V AC | 115V AC / 230V AC | 115V AC / 230V AC |
| Weight | 7.8 lb | 8.1 lb | 8.4 lb |
| Signal to Noise Ratio | 95db A-weighted | 95db A-weighted | 95db A-weighted |
| Fuse Type | 115V AC: T3.15AL 250V | 115V AC: T6.3AL 250V | 115V AC: T10AL 250V |
| | 230V AC: T1.6AL 250V | 230V AC: T3.15AL 250V | 230V AC: T5AL 250V |
| Channels | 2-Channel | 2-Channel | 2-Channel |