Episode® Digital Mini-Amplifier with 35 Watts per Channel
Enhance the audio of even the thinnest TVs without having to use a bulky AV receiver. Episode® Digital Mini Amplifiers deliver outstanding sound quality and cool-running performance – in one convenient, pint-sized package that stays out of sight. Featuring two inputs with selectable priority and IR control with learning, they can be programmed to work with any remote or control system. And when used in conjunction with our Strong™ VersaBox, they can be tucked neatly behind the TV.
important Note - Programming this product requires an IR receiver (receiver and remote NOT included).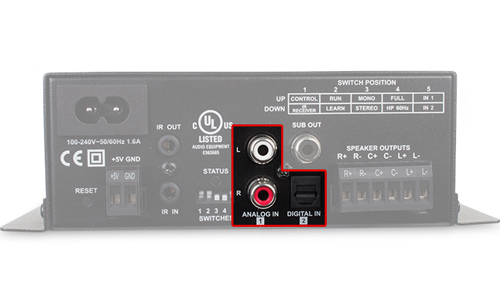 Selectable Input Priority
Equipped with two inputs – analog RCA and digital optical Toslink – this amplifier drives superior sound for two pieces of equipment, like a BluRay player and cable box. Plus it's great for applications that need to incorporate multi-room audio with a single TV. This amp automatically switches to the input with an active signal, but you can set a priority input to ensure that one device always takes precedence – even if both are being used.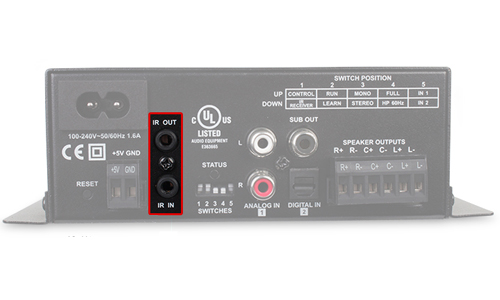 IR Controllable
Thanks to IR learning, you can control this amplifier using the customer's existing remote. It provides fast and easy control of volume and basic commands. You can also use the Episode® Remote Control for Digital Mini-Amplifier (sold separately) to teach the discrete IR commands to any universal remote. For more complex systems, the amp's hard-wired IR input can be used to connect directly to a control system. Hex codes are available for download on the Support Tab.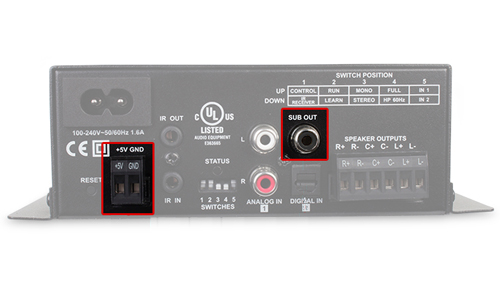 Add Bass with Ease
This amp features a subwoofer line level output and a 5V DC output – perfect for connecting our Wireless Subwoofer or any other device that uses 5V DC, without using a bulky power supply. And you can even set the high pass filter to 60Hz Pass to protect both the amplifier and the speakers it's powering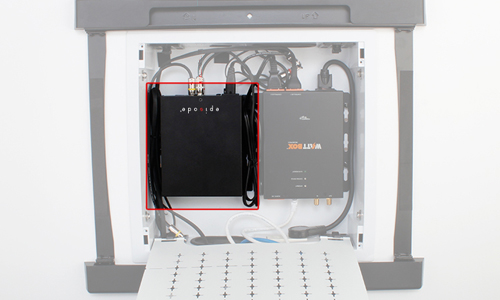 VersaBox Compatible
A small form factor, compact controls, efficiently placed connections, and mounting tabs allow this digital mini amplifier to fit easily into our Strong™ VersaBox, so it can disappear behind the TV. Thanks to its small size, you can also discretely place it on a table top.
Digital Amplification
Our engineers have combined advanced digital amplifier technologies with installer-friendly features to create a robust power plant built from the ground up for today's audio applications. Unlike analog amplifiers from the competition, our digital amplifiers are much more energy efficient and run up to 80% cooler.
Audio Sensing Power On
Perfect for multi-room audio applications, this amplifier has a default setting for audio sensing. Once it detects a source it automatically turns on, and if there's a lack of signal for 20 minutes the device turns off. This smart feature is great for use with Sonos or Apple Airplay.
Tone and EQ Settings
Equipped with EQ settings, this amplifier can be customized to meet the customer's exact preferences. Three presets for music, movies, and voice allow you to adjust the settings to achieve ideal audio in every application. Additional bass and treble adjustments are available through discrete IR command codes.
EA-MINI-3D-35
EA-MINI-2D-35

Channels

3

2

Impedance Input

20,000 ohm

20,000 ohm

Power Output @ 4 ohm

35W

35W

Power Output @ 8 ohm

26W

26W

Topology

Class D

Class D

Total Harmonic Distortion (THD)

< 1%

< 1%

Frequency Response

20 Hz to 20 kHz

20 Hz to 20 kHz

Color

Black

Black

Dimensions (W x H x D)

5.4" x 2" x 6.8"

5.4" x 2" x 6.8"

Power Consumption

Typical Power: 80 Watts

Typical Power: 60 Watts

Max Power: 145 Watts
Max Power 100 Watts

Line Voltage

12V DC

12V DC

Weight

2.5 lbs

2.5 lbs

Signal to Noise Ratio

90 dB

90 dB