Round Table Box Interface with VGA, HDMI, Power and Data
The perfect addition to conference room tables and training podiums, FSR™ Round Table Box Interface with VGA, HDMI®, Power and Data provides a central location for the wiring that connects a presenter's computer to the room's AV system. It has all the most common unified communications connection types - power outlet, VGA, HDMI®, and Ethernet - housed in a single, compact form factor. And best of all, you don't need a master craftsman to install this conferencing solution! Just use a hole saw and the table box drops right in for a perfect fit. Talk about a smart and custom AV conferencing solution!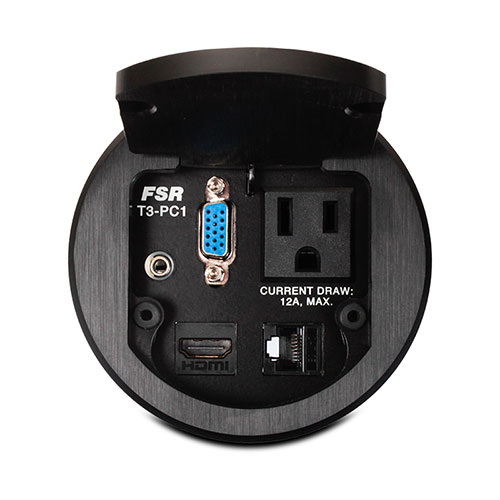 Convenient Connectivity
Make sure all your connections are easily accessible with this smart table box. It features all the most common computer hookups needed for today's conference rooms (VGA, HDMI®, Power, Ethernet) - and keeps the wires neatly organized in one central location. Users can easily connect their computers to the surrounding AV system with no hassle and no mess of cables hanging off the side of the table.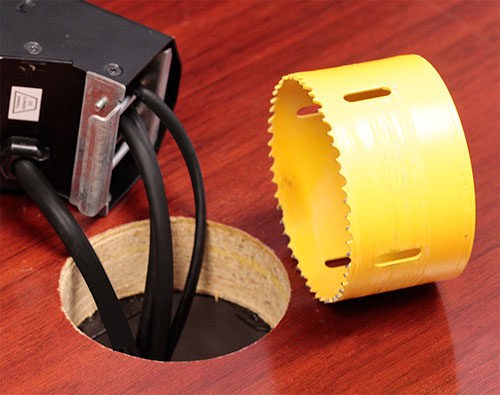 Easy Installation
The box is round - so all you need is a 3.5" hole saw and some masking tape. Just find your centerline, cut the hole, and mount the box. Your customer will love how they didn't have to pay another trade to get the job done, and you'll love how you didn't have to coordinate the extra labor.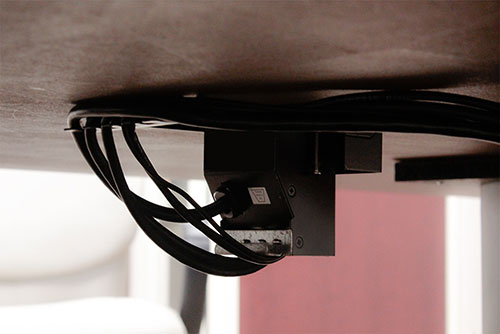 Smart Mounting Bracket
The included mounting bracket allows you to secure the box under the table and out of sight - plus it provides fast, easy wire management. Use it to organize your wires under the table and create a clean look and feel on every conference room install.