Binary™ B4 Series Male to Male VGA Cable with 3.5mm Stereo Plug
Don't waste time pulling and terminating multiple cables. Get a faster and easier install by using these Binary™ B4 Series Male to Male VGA Cables. Their 3.5mm mini plug fits most laptops and provides clean, crisp audio, which is ideal in boardrooms with a computer and projector setup. One cable does it all, and each one features a compact connector head, flexible jacket, and support for resolutions up to 1920x1200, including Full HD - all of which allow them to go places other VGA cables can't. Plus they are in-wall rated, so you can save time by ditching the separate cables and running these pre-terminated ones instead.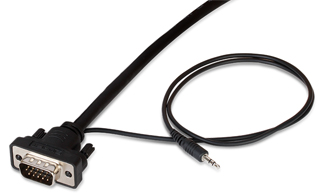 When Video Isn't Enough
Perfect for applications where audio is a must, these cables are equipped with stereo plugs. One end features a 3.5mm tail that plugs cleanly into a wall plate, while the other end is longer to simplify situations when your laptop's VGA port isn't right next to the audio port.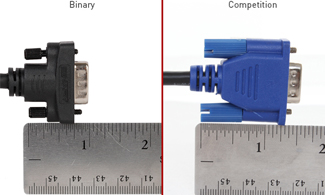 Low-Profile Connector
Super-thin displays make bulky cables tough to use. Thankfully, this VGA cable leaves those "head-aches" behind by featuring a connector head that's up to 50% shorter than competitive designs. It works great in tight spaces, like inside that small table cubby or behind a wall-mounted flat panel.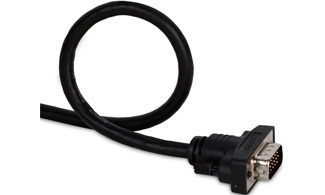 Bendier is Better
a proprietary, ultra-flexible jacket compound to make these cables just as flexible as the applications you use them in. A tighter bend radius, combined with the low-profile connector head, can save up an inch or more of depth behind equipment and make your life so much easier when dressing a rack.
The Support You Need
With bandwidth and shielding to support resolutions all the way up to 1920x1200, including Full HD (1920x1080), these cables provide crisp, clean video in a variety of applications: projector screens, TVs, digital signage and more.
Resolution Auto-Detect
Getting the right resolution every time is easier than you think. This cable supports DDC / EDID on Pin 9, which allows the source and display to sync up. Just connect your compliant devices and the resolution will be set automatically.
| | | | | | | |
| --- | --- | --- | --- | --- | --- | --- |
| | B4-VGA-AUD-50FT | B4-VGA-AUD-25FT | B4-VGA-AUD-18FT | B4-VGA-AUD-10FT | B4-VGA-AUD-6FT | B4-VGA-AUD-3FT |
| Gauge | 28 AWG | 28 AWG | 32 AWG | 32 AWG | 32 AWG | 32 AWG |
| Certifications | UL, CL3, FT4, RoHS | UL, CL3, FT4, RoHS | UL, CL3, FT4, RoHS | UL, CL3, FT4, RoHS | UL, CL3, FT4, RoHS | UL, CL3, FT4, RoHS |
| Color | Black | Black | Black | Black | Black | Black |
| Length | 50 Ft. | 25 Ft. | 18 Ft. | 10 Ft. | 6 Ft. | 3 Ft. |
| Length (Metric) | 15 M | 7.5 M | 5.5 M | 3 M | 1.8 M | 0.9 M |
| Sold As | Each | Each | Each | Each | Each | Each |
| Supported Resolutions | Up to 1920 x 1200 | Up to 1920 x 1200 | Up to 1920 x 1200 | Up to 1920 x 1200 | Up to 1920 x 1200 | Up to 1920 x 1200 |