Araknis Networks® 110 Series Unmanaged+ Gigabit Switch with Front Ports
These sleek Unmanaged+ Gigabit switches deliver an unrivaled networking solution for any job. Designed exclusively for custom installers, they offer visibility to end devices via the OvrC cloud management platform, 1Gbps support on all ports simultaneously, plug-and-play capability, and a new rift lighting design with network performance indicators. And with multiple mounting options and a versatile design, this switch can go just about anywhere.
Firmware Update - This product has new firmware available. Please update your switch during installation. You can update when you claim the switch in your OvrC account.

Unmanaged+

Gigabit

Fanless

Multi-Mounting

Metal Housing

OvrC Enabled
---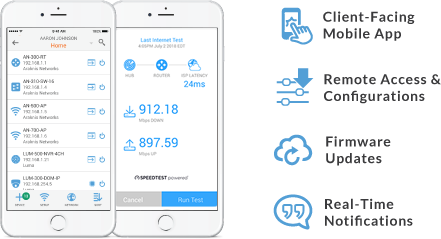 OvrC is your remote on-call technician, a free cloud-control app that makes installs a breeze and helps eliminate truck rolls. Plus, a convenient, end-user app allows your customers to fix small problems on their own, reducing calls and making your life easier.
Learn More About Araknis + OvrC >>
---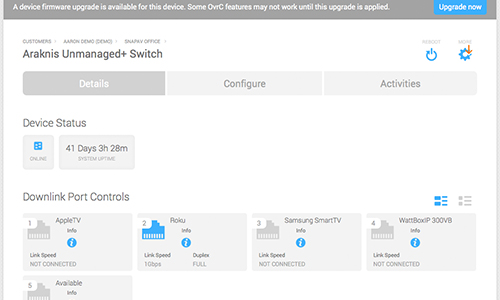 Unmanaged+ with OvrC
Unmanaged+ takes the reliability and cost-effectiveness of an unmanaged switch and adds basic cloud management via OvrC. Now you can see through the entire network to each connected device, making it easy to troubleshoot problems and adding a layer of visibility to an already great design. See it in action >>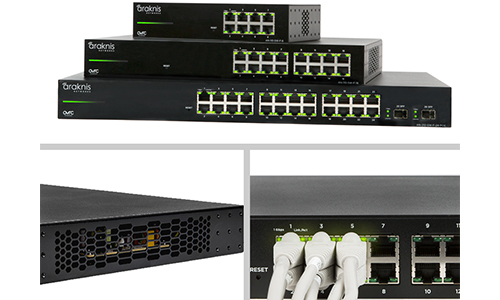 Rift LED & Mechanical Design
Both stylish and informative, these blue LED lights indicate power status, port speed (10/100 Mbps - 1 Gbps), and link status. Plus, a redesigned faceplate is constructed with industrial materials, beveled edges, and a glossy finish, making for a clean design you'll love to show off.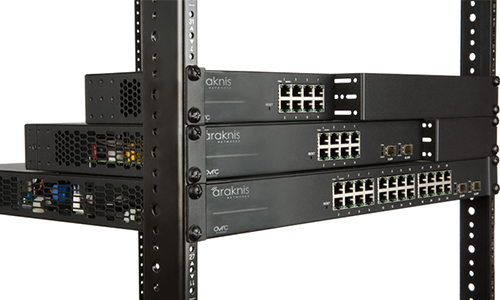 Multi-Mounting
Mounting has never been easier. Due to its 1U design and available accessories, it can easily be mounted in a rack, wall, or anywhere in between.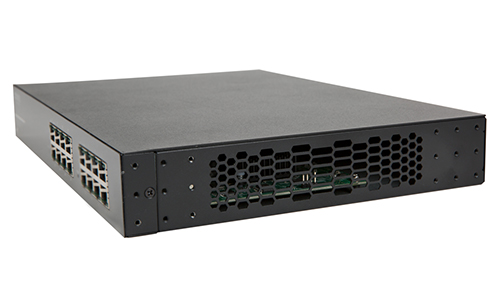 Fanless Design
An improved housing design features a honeycomb venting solution and completely fanless design, making for a silent operation, without sacrificing performance.
Plug-n-Play
Stop spending time on network configuration. Simply plug this switch in, and you're ready to go. It's as easy as that.
1Gbps Throughput
With a powerful 1Gbps on all ports simultaneously, this switch can support the backbone of an install or simply act as a desktop add.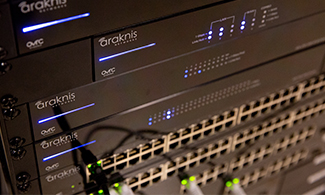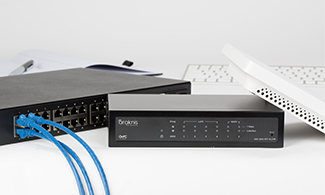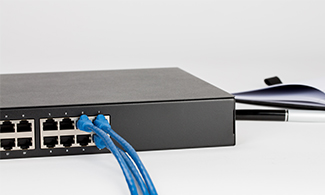 Araknis Networks
®

now has a complete solution.
| | | | |
| --- | --- | --- | --- |
| | AN-110-SW-F-24 | AN-110-SW-F-16 | AN-110-SW-F-8 |
| Dimensions (W x H x D) | 12.99" x 1.73" x 9.05" | 12.99" x 1.73" x 9.05" | 7.87" x 1.73" x 4.72" |
| RJ-45 1000BASE-T Ports | 24 | 16 | 8 |
| RJ45 Auto Sensing | Yes | Yes | Yes |
| RJ45 Auto Negotiation | Yes | Yes | Yes |
| Auto MDI/MDI-X | Yes | Yes | Yes |
| MAC Table Size | 8K | 8K | 4K |
| Packet Buffer | 512KB | 512KB | 128KB |
| Switching Capacity | 48Gbps | 32Gbps | 16Gbps |
| Forwarding Rate | 35.7Mpps | 23.8Mpps | 11.9Mpp |
| Jumbo Frame Support | 9k | 9k | 9k |
| Forwarding Mode | Store-and-forward | Store-and-forward | Store-and-forward |
| OvrC Status Features | Model Name | Model Name | Model Name |
| | MAC Address | MAC Address | MAC Address |
| | IP Address | IP Address | IP Address |
| | Firmware Version | Firmware Version | Firmware Version |
| | Firmware Date | Firmware Date | Firmware Date |
| | OvrC Status | OvrC Status | OvrC Status |
| | Service Tag | Service Tag | Service Tag |
| | Device Status (online/offline) | Device Status (online/offline) | Device Status (online/offline) |
| | Port Traffic | Port Traffic | Port Traffic |
| OvrC Settings | DHCP Setting | DHCP Setting | DHCP Setting |
| | IP Address | IP Address | IP Address |
| | Subnet Mask | Subnet Mask | Subnet Mask |
| | DNS Setting | DNS Setting | DNS Setting |
| | Port Name | Port Name | Port Name |
| | Port Speed | Port Speed | Port Speed |
| Management Features | Management: Cloud Managed via OvrC | Management: Cloud Managed via OvrC | Management: Cloud Managed via OvrC |
| | FW Upgrade: via OvrC | FW Upgrade: via OvrC | FW Upgrade: via OvrC |
| | DHCP: Client by default | DHCP: Client by default | DHCP: Client by default |
| | Reboot: via OvrC | Reboot: via OvrC | Reboot: via OvrC |
| | System Log: via OvrC | System Log: via OvrC | System Log: via OvrC |
| Line Voltage | 100-240v AC, 50/60 Hz | 100-240v AC, 50/60 Hz | 100-240v AC, 50/60 Hz |
| Operating Temperature | 32°-122° | 32°-122° | 32°-122° |
| Operating Humidity | 10-90% | 10-90% | 10-90% |
| Power Consumption | 18.3W | 18.3W | 3.7W |
| Weight | 4.89 lb | 4.69 lb | 1.57 lb |